The number one marketing & retention solution for multifamily & Student Housing
PREVIEW THE SPROUT MEMBERSHIP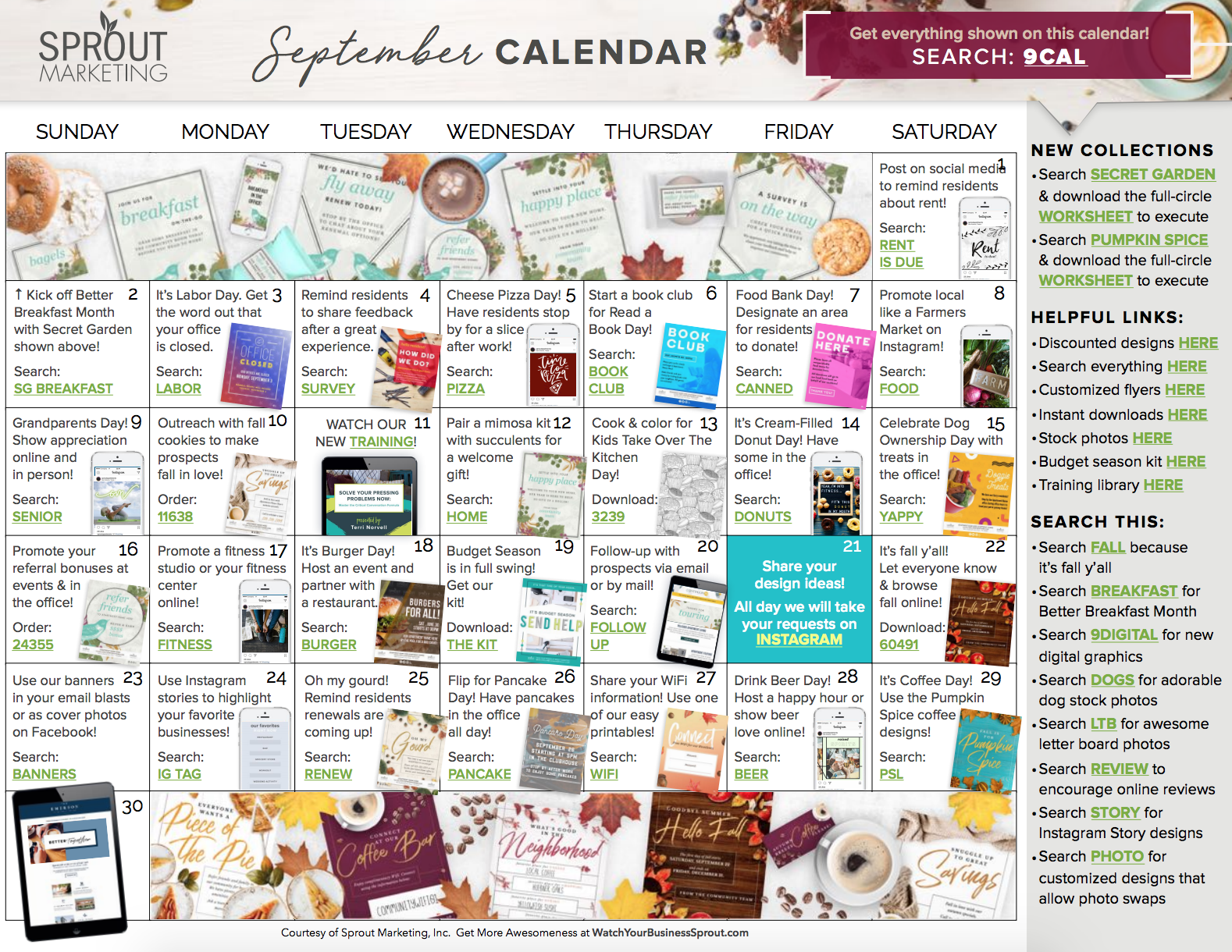 Your Monthly Marketing Calendar
No more having to come up with what to do for marketing, retention or social media each month. Follow our monthly marketing plan (with links to resources shown) and cover all of the essentials every month.
Some plans just give you the ideas. We give you ideas, PLUS everything you need to make it happen.
Love one of the collections we're featuring this month and want to make it a full-circle campaign? We've got you covered.
Follow the detailed step-by-step plan.
No detail overlooked.
-Outreach
-Follow- Up
-Referral
-Welcome
-Renewal
-Event
-Social Media
-Website
450+ Instant download flyers
Zero customization required for resident notices, welcome home, follow-up, event printables, renewals, referrals, and so much more! New selections added weekly.
Making every touchpoint count
Everything you need to host the perfect event
Just click TO print Invites, party signs, labels, table tents & more
750+ Digital graphics
Never run out of things to post on facebook, instagram, pinterest, google+, Twitter & More! Use on your website & in your email marketing.
access to 1,800+ Customizable flyers
Submit a design request and we'll customize with all of your community's info.
Get unlimited customized designs with the UNLIMITED MEMBERSHIP. For the BASE MEMBERSHIP, customized designs start at just $12.50.
Plus, Business Cards, BROCHURES, Post cards, Sales Sheets, Newsletters & More!
Unlimited customization of items below included with UNLIMITED MEMBERSHIP.
For the BASE MEMBERSHIP, receive discounted pricing on the following:
Business Cards ($25)
Postcards ($50)
Newsletters: ($75)
Trifolds & Sales Sheets ($150)
Add Design Dollars to your monthly membership or pay a la carte as you order!
150+ real lifestyle photos
new photos added monthly
Use on your website, social media platforms, email marketing & customized designs
Bite-sized Training from Subject Matter Experts
Still have questions? Let's chat.